Story – How to Find an Elephant
Activity 1 – Rhino Puzzle
You will need:  a paper plate, cardboard or paper, markers, crayons or paint and scissors.
Colour in your paper plate.  With your cardboard, cut out ears, eyes, two horns and a mouth. Mix up the body parts and let your little one place them in the right order on the plate.  Talk about their own body parts.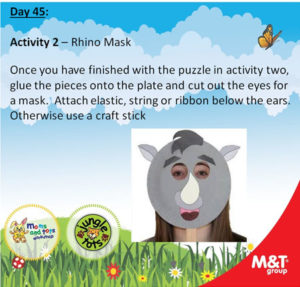 Activity 2 – Rhino Mask
Once you have finished with the puzzle in activity two, glue the pieces onto the plate and cut out the eyes for a mask.  Attach elastic, string or ribbon below the ears.  Otherwise use a craft stick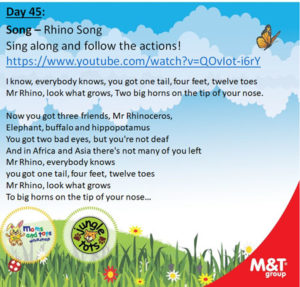 Song – Rhino Song
Sing along and follow the actions!
https://www.youtube.com/watch?v=QOvIot-i6rY
I know, everybody knows, you got one tail, four feet, twelve toes Mr Rhino, look what grows, Two big horns on the tip of your nose.
Now you got three friends, Mr Rhinoceros,
Elephant, buffalo and hippopotamus
You got two bad eyes, but you're not deaf
And in Africa and Asia there's not many of you left
Mr Rhino, everybody knows
you got one tail, four feet, twelve toes
Mr Rhino, look what grows
To big horns on the tip of your nose…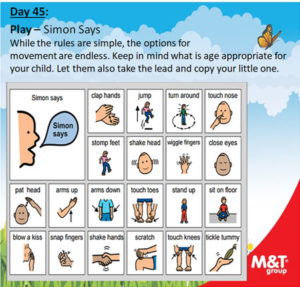 Play – Simon Says
While the rules are simple, the options for movement are endless. Keep in mind what is age appropriate for your child. Let them also take the lead and copy your little one