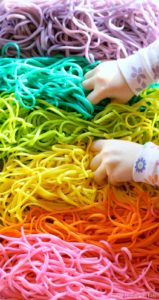 Rainbow Spaghetti so much fun!
To make your own, cook the spaghetti as usual. Once it is cooked, rinse it with cool water. If you are using it for infant play, I would recommend cooking it and presenting it plain. Though food coloring is "safe", it's not recommended for babies to consume, so plain uncolored spaghetti would be best for babies who are still apt to mouth things.
For older children who are beyond mouthing, you can either use food coloring, or you can use Liquid Watercolors. Having used both, I feel like you get much more vibrant colors with fewer drops if you use liquid watercolors so that's what we use for most of our colored activities. Additionally food coloring can stain your hands, whereas liquid watercolors are washable. 🙂 Just add a quantity of cooked pasta and several drops of whatever coloring you're using to a ziploc bag – seal and shake! The shaking is a good job for an older child. I was able to use just one ziploc bag by rinsing it out quickly between each color.