Story – How to find an elephant    
Activity 1 –  Elephant Safari Binoculars
You will need:
Two toilet rolls
Glue
Leaves or stickers to decorate them
Piece of ribbon or string so that they can hang around your child's neck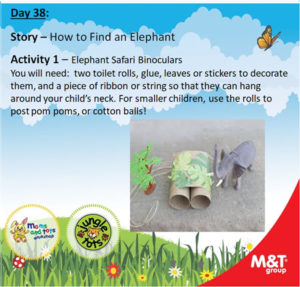 Activity 2 – Magnifying Glass
Make this DIY magnifying glass with a curved piece of plastic from a bottle and a little water. Nothing's better than using your own magnifying glass to find clues and solve mysteries!
Play – We're going on an Adventure!
Using your binoculars and magnifying glass, walk through the garden and look for bugs, animals (dogs and cats count J) and interesting leaves and flowers.
For smaller children you can explore the textures of grass and leaves, while you talk to them about what they can hear, see and smell around them.
If you're in your home, hide plastic bugs or animals for your children to find!